News
HOJ Wiki is Open! (Edited by volunteer players)
Welcome to Herbert Online Judge β!
New Features
1. User registration is available. Please click register/login.
2. You can see user rating / ranking on the Ranking page.
3. Your submission codes are saved if you are logging in.
4. You can make problems. Please use Edit Menu after logging in.
Some contents of this site are provided only in Japanese.
Sorry for the inconvenience.
What's Herbert?
Herbert is a exciting puzzle game.
Your mission is controling the robot(Herbert) on the field and pushing targets.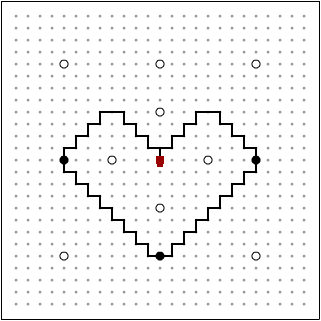 You can use a simple programming language, "H" to control Herbert.
The grammer and rule of "H" is so simple that everyone can master it in short time.
Herbert is especially recommended for people who...
like puzzles / want to train their brains
intend to learn programming
are familiar with programming and algorithms
About Herbert and HOJ
Herbert was originally developed by wildnoodle.
It was used on Microsoft ImagineCup for three years.
This website is unofficial Herbert Online Judge system for Herbert lovers.
There are some differences between HOJ and original implementation by wildnoodle.
Please contact me if you find obvious bugs.
Developer: @quolc (a member of IC2008 Japanese team)
Contact: quolc.i [at] gmail.com
Information
2011/03/17 : Bug fix for interpreter
2011/03/10 : Improvement of Problems page
2011/03/06 : fix problem with using "+" / Bug fix for interpreter
2011/03/06 : System Test Bug Fix
2011/03/05 : Herbert Online Judge beta release
2010/10/30 : Rule release
2010/10/25 : Problem Set 0 (0000-0020)
2010/10/25 : Herbert Online Judge alpha release
Closed Events
2nd HOJ Festival
Submit problems: Dec. 25 - 31, 2012 (JST)
Solve problems: Until Jan 13, 18:00
The score of each problems is calculated by a special rule.
Please check the detail page.
HOJ Contest #7
Date: 2012/6/10 (Sun) 20:00-23:00
HOJ Contest #8
Date: 2012/10/28 (Sun) 20:00-23:00 (GMT+9)
Organizer: snuke
HOJ Contest #6
Date: 2012/2/26 (Sun) 20:00-23:00
Organizer: mas
HOJ Contest #5
Date: 2012/1/15 (Sun) 20:00-23:00
HOJ Contest #4
Date: 2011/12/10 (Sat) 20:00-23:00
Organizer: snuke
HOJ Contest #3
Date: 2011/11/13 (Sun) 20:00-23:00
Organizer: Ktya
HOJ Contest #2
Date: 2011/10/23 (Sun) 20:00-23:00
Organizer: mas
HOJ Contest #1
Date: 2011/9/18 (Sun) 20:00-23:00
Organizer: snuke